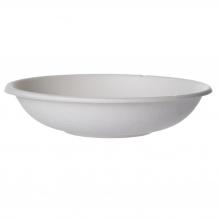 Sugarcane Bowls provide a strong, tough and compostable way to enjoy soup or salad. Use them for hot or cold foods. 
Product Details:
Style: Coupe Bowls
Materials: Eco-products® Compostable (Sugarcane)
Top Diameter: 6.1"
Bottom Diameter: 2.7"
Height: 1.37"
Recommended use: hot or cold foods
These highly versatile bowls put the spotlight on your next meal without leaking, soaking, or ruining the planet. 
Sugarcane Bowls are made from a 100% reclaimed and renewable sugarcane fiber instead of foam or virgin paper. 
Product Features:
Made from 100% renewable and reclaimed resources
Made with sugarcane, a rapidly renewable resource
Meet ASTM standards for compostability
Grease and cut resistant
Freezer safe
Microwave friendly
Available in sizes/styles:
6 oz coupe and 12 & 16 oz classic sizes
16N - 40L oz. Noodle bowl sizes
Renewables Details:
Traditional plastic plates are made from petroleum, the world's most valuable, non-renewable resource.
Sugarcane products are made from rapidly renewable resources, not oil.
Our sugarcane products are made from a reclaimed resource that would otherwise have been burned.
Our sugarcane products are compostable in commercial compost facilities, but unfortunately not in your home compost.
Compost is a great way to improve vital soil resources and divert waste that would otherwise be landfilled.
Composting helps divert waste from landfills.
Product SKU:
ES1012
Contact Dacotah Paper for Pricing 800-323-7583