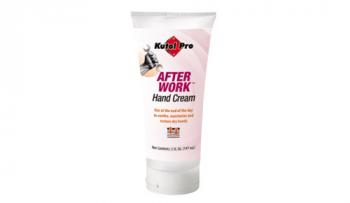 Kutol Pro After Work Hand Cream was developed to help soothe, moisturize and restore dry working hands.  Designed for use at the end of the day or after frequent hand washes.  Contains allantoin to help soothe and condition skin and moisturizers to help restore dry hands. White color with a Fresh scent.
Directions for use: 
Wash skin before applying product. Apply and
rub completely into skin. Repeat as necessary.
Product Type . . . . . . . . . . . . . . . Cream Emulsion
Color . . . . . . . . . . . . . . . . . . . . . . . . . . . White
Clarity . . . . . . . . . . . . . . . . . . . . . . . . Opaque
Fragrance . . . . . . . . . . . . . . . . . . . . . . . . Fresh
Freeze Thaw Stable . . . . . . . . . . . . . Yes (3 cycles)
Product SKU:
KU6315
Contact Dacotah Paper for Pricing 800-323-7583