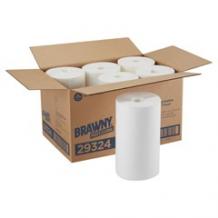 The Brawny® Professional H700 Cleaning Towel System Refill is part of the Brawny® Professional Cleaning Towel System. Because the towels are made from hydro-entangled fiber (HEF), they're strong, tear-resistant—and can handle everything from fluid spills and grease to industrial cleaners and solvents. They're also reusable, cloth-like and disposable when soiled or contaminated. Plus, they're absorbent and low lint. These towels are a safer alternative to rental shop towels, which can contain metal shards.
STRONG AND TEAR-RESISTANT towels stand up to use with industrial cleaners and solvents
ABSORBENT, so towels effectively soak up oil, fluid spills, grease and grime
LOW-LINT cleaning towels clean surfaces without leaving particles behind
REUSABLE LIKE CLOTH, yet disposable when excessively soiled or contaminated
A SAFER ALTERNATIVE TO RENTAL SHOP TOWELS, which can contain metal shards and residue/contaminants from previous users
TOWELS ARE DISPENSED THROUGH THE BUCKET'S NOZZLE ONE AT A TIME, which helps control costs and increase efficiency
TOWEL REFILLS ARE MADE OF HYDRO-ENTANGLED FIBER (HEF)
Color: White
Wiper size: 10.5"x14"
Product SKU:
GP9324
Contact Dacotah Paper for Pricing 800-323-7583