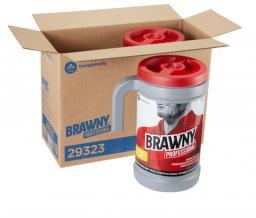 The Brawny® Professional Cleaning Towel System includes an enclosed bucket with dispenser lid and strong, reusable industrial wipes. These perforated, disposable cleaning cloths are dispensed through the bucket's nozzle one at a time, which helps reduce costs and increase efficiency. The refillable, recyclable plastic bucket has a translucent lid for quick visibility to product stock levels. Plus, the bucket has a hooked handle, which helps make it easily transportable so you can bring it anywhere you need to clean. And because it's impact-resistant, the bucket can withstand being dropped several feet. The system's H700 towel refills are strong and tear-resistant, even when used with industrial solvents. They're also absorbent and low lint. Sturdy enough for use as industrial cleaning wipes, they're also great for use as industrial hand wipes. Plus, the disposable cleaning towels are a safer alternative to rental shop towels, which can contain metal shards.
TOWELS ARE DISPENSED THROUGH THE BUCKET'S NOZZLE ONE AT A TIME, which helps control costs & boost efficiency
REFILLABLE, REUSABLE & RECYCLABLE plastic bucket
HOOKED HANDLE helps make the bucket portable and easy to use on the side of a cart, etc.
IMPACT-RESISTANT BUCKET can withstand being dropped several feet
STRONG, TEAR-RESISTANT TOWELS stand up to industrial cleaners & solvents and are absorbent, low lint, reusable and disposable
TRANSLUCENT LID for quick visibility to product levels
Wiper size: 10.5"x14"
Product SKU:
GP9323
Contact Dacotah Paper for Pricing 800-323-7583