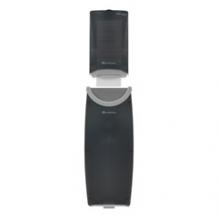 Safe-T-Gard™ door tissue dispenser and receptacle system is perfect for any facility where hygiene and washroom image is a primary concern. This convenient system converts restroom doors into touchless exits and eliminates the need to leave a trash receptacle by the door. The trash receptacle dimensions are 7.4"W x 20.5"H x 4"D, is approximately 2.1 gallons and accepts a standard 17" x 18" LLD or HMWHD can liner to help promote cleanliness. Safe-T-Gard door tissue system is the perfect complement to the enMotion® Wall Mount or enMotion® Recessed automated electronic towel dispensers.
One-at-a time portion controlled dispensing reduces waste at the source and curbs excessive paper towel usage and floor litter
Encourages a more hygienic, touch-free and uncluttered washroom experience
Serves as a hygienic barrier between clean hands & doors
Enhances the hygienic perception of the washroom & promotes cleanliness
Converts the restroom door into a touch free exit
Easily installed and eliminates the need for an unsightly trash bin by the door
Color: Translucent Smoke
Dimensions: 6.6" x 4.0'' x 11"
Product SKU:
GP9513
Contact Dacotah Paper for Pricing 800-323-7583