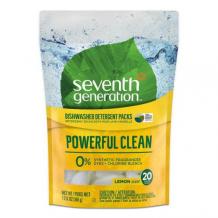 With Seventh Generation's Lemon Scent Dishwasher Detergent Packs, you get a grease-fighting clean that's powered by plants and minerals for a reliable, everyday clean you can trust. Made with plant-based enzymes that stand up to dried, stuck-on food and grease messes, our dishwashing packs have a refreshing scent and come in a convenient, single-pack dose that simplifies and takes the guess work out of dish time. No measuring, no spilling—just clean. Designed to work with your family's busy life, our reliable packs are easy to store in a resealable pouch so they're ready whenever you need them. They're also formulated without the use of chlorine bleach or dyes for the peace of mind you expect from the products you use in your home. 
Usage:
LOAD DISHWASHER: Make sure items are dishwasher safe. Silver, aluminum and stainless steel should be washed in separate loads to avoid discoloration. Load items with soiled surfaces facing the center of the bottom rack for optimum dishwashing.
ADD DISHWASHER DETERGENT PACK: Use one dishwasher detergent pack per load. Do not unwrap or puncture pack. Do not handle dishwasher pack with wet hands. Place pack in main dispenser cup and close immediately.
Product SKU:
SV2896
Contact Dacotah Paper for Pricing 800-323-7583