More Than Just Paper
Dacotah Paper Co. is a fourth generation, family-owned wholesale distributor of over 7,000 different products from America's most trusted brands.
We Specialize in:
Packaging Supplies
Janitorial Supplies & Equipment
Office Supplies
Food Service Supplies
First Aid & Safety Apparel
CORPORATE OVERVIEW
1906
In 1906 Carl greenwood and Ernest Orr joined forces and created Greenwood Orr & company in Fargo, ND. The two partners offered a variety of paper/stationery items.
1920
In 1920 the company was re-named: The Greenwood Stationery Company, soon simplified to Greenwood Stationery. In the 1920's, F.W. "Bill" Mohr, Jr. joined Greenwood Stationery. Bill Mohr was promoted to salesman in 1926 and established an excellent reputation for himself. Soon Greenwood Stationery was a leader in the Fargo area paper market.
1929
1929 unleashed the worst economic crash in US history, however Greenwood Stationery continued on its own growth path. Bill Mohr often made deliveries on his bicycle in order to save gas while making sure his customers were getting their orders.
The continued growth of the company through times of economic hardship caught the attention of WL Stockwell, President of Northern School Supply Co. – he later acquired Greenwood Stationery. Bill Mohr became Paper Business Manager of Greenwood Stationery.
1932
In 1932, the company name was changed to Dacotah Paper Co. serving an ever-widening area.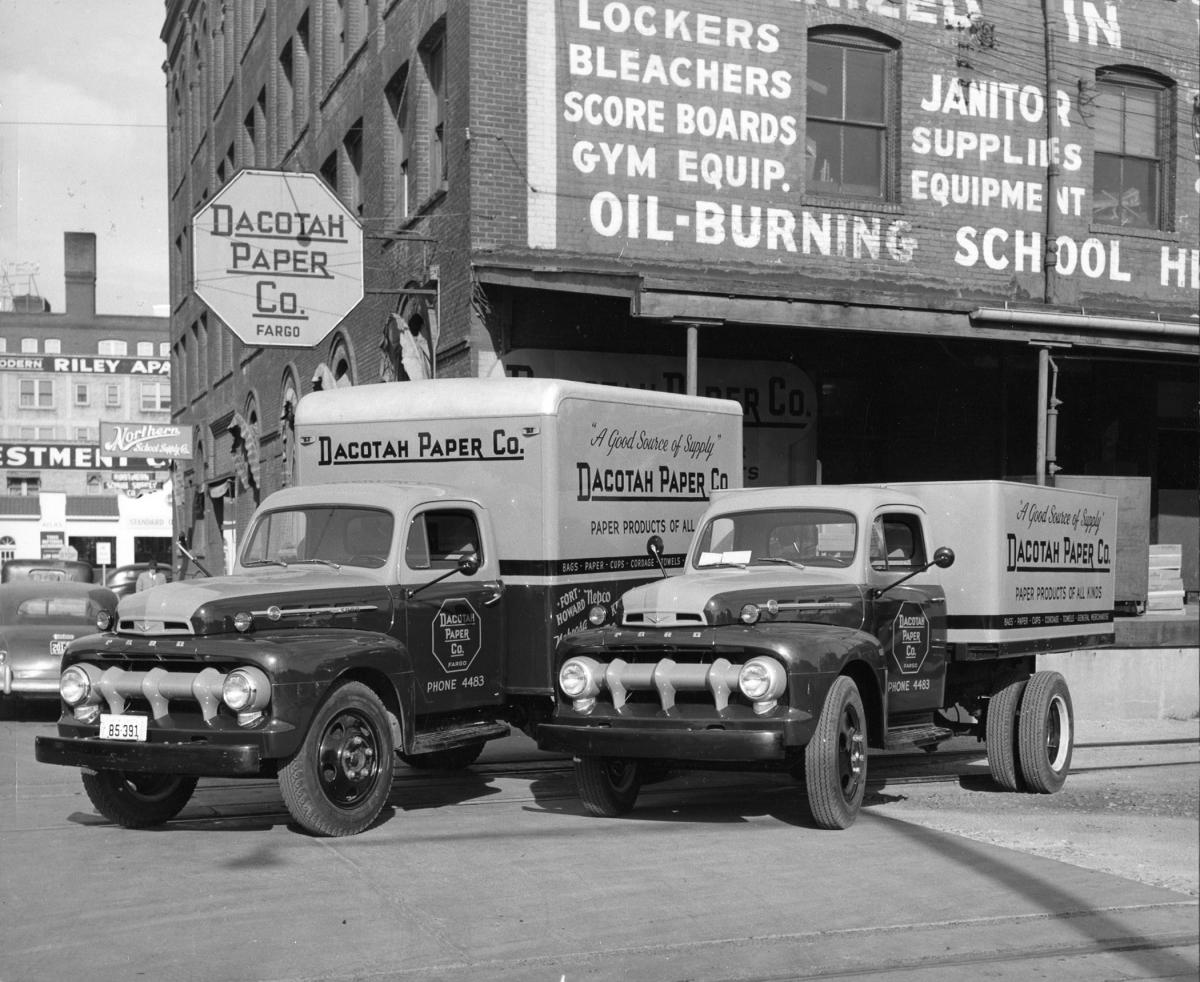 Pictured: Dacotah Paper Co. delivery trucks outside of their headquarters shared with Northern School Supply.
1951
In 1951 – the paper business division became its own entity and incorporated as an ND corporation – Bill Mohr named President.
1953
Dacotah Paper Co. purchased a building in Fargo serving as both headquarters and product warehouse for over 30 years. Bill Mohr's son, Fred W. Mohr joined the company as a salesman in the Jamestown territory. In 1957, Fred moved to Fargo to expand the data processing department.
1960
Bill & Fred Mohr and other employees purchased Dacotah Paper Co. from Northern School Supply. Fred Mohr is named President in 1962.
1985
Matthew Mohr, Fred's son, took an interest in Dacotah Paper at an early age, and worked periodically in its product warehouse. In 1985, Matthew became Operations Manager.
1987
 In 1987, the company continued to grow and modernized their expanded operations by moving to a Fargo Industrial Park facility with 220K square feet.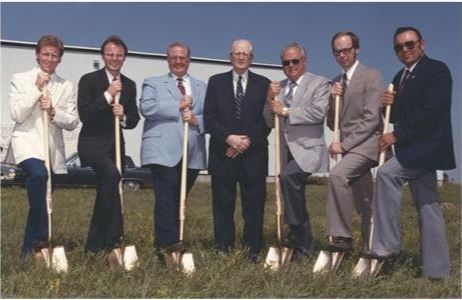 Warehouse Expansion Groundbreaking – 1987. Pictured left to right: Eric Mohr, Matthew Mohr, Fred Mohr, Bill Mohr, Oscar Sandvik, Gary Pedersen, Gary Rodacker
1990s- Present Day Growth
Dacotah Paper's strength to serve customers was greatly enhanced with strategic acquired growth.
1990 – Acquired both Ed Philips & Sons and Valley Lights
1992 – Acquired American Janitorial Supply
1993 – Acquired Range Paper
1994 – Acquired Bemidji Paper & Janitorial Supplies
2006 – Acquired Clean-Rite Maintenance Supplies
2015 – Acquired Spectrum Supply
2018 – Acquired both Jiffy Jr. and Johnson Paper & Supply Co.
2019 – Acquired Teigen Paper & Supply Inc
Growing from primarily stationery products in 1906, Dacotah paper Co. now distributes over 7,000 items from trusted brands. Our service delivery area now includes 7 states with our iconic black and gold fleet of over 50 trucks.

Pictured: One of our black and gold semis in the Dacotah Paper fleet. Our distribution area reaches into 7 states.
2016
Berea Mohr, daughter of Matthew joined Dacotah Paper Co. in 2016, starting in Customer Service, and now highly involved in the company. She oversees the online store, works with fleet delivery dispatch, and other various trouble spots. She is being trained to take on the fourth generation Mohr business legacy.

Mohr Family business represented in generations. Bill Mohr (Gen I), Fred Mohr (Gen II), Matthew Mohr (Gen III), Berea Mohr ( Gen IV)
2021
Dacotah Paper Co. continues to grow by adding an additional 55,728 square feet of warehouse space to its primary distribution center in Fargo. With the 5 divisions in Minnesota, this brings Dacotah's total office/warehouse capacity to approximately 343,000 square feet.