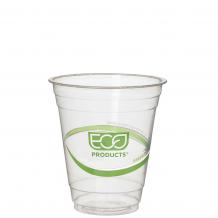 These 12 oz GreenStripe® clear cups are great for wine or mixed beverages.
This is your GreenStripe® Renewable and Compostable Cold Cup! This cup holds drinks without leaking, rocks its environmental attributes, and is always the life of the party. 
Best of all, when its time to go home, this cup is 100% certified compostable and returns to the soil.
Clear
Compostable (corn)
Recommended for: wine/mixed beverages
Top Diameter: 3in
Bottom Diameter: 2in
Height: 4in
Product Features:
Made from 100% renewable resources
Made with Ingeo™, a plant-based plastic
Meet ASTM standards for compostability
GreenStripe® branding communicates your environmental commitment
Heat Tolerance: 105 (F)
Store in a cool place away from direct sunlight
Available in:
7, 9, 10, 12, 16, 20, 24, and 32 oz. sizes
Recommended Lids:
Flat Lid (ES0001)
Dome Lid with Hole (ES0002)
Dome Lid no Hole (ES0004)
Sip Lid (ES0005)
Compostable Info:
Polylactic acid (PLA) or "corn plastic" is made from annually renewable resources, not oil.
Composting helps divert waste from landfills.
Compost is a great way to improve vital soil resources and divert waste that would otherwise be landfilled.
Our PLA products are compostable in commercial compost facilities, but unfortunately not in your home compost.
Product SKU:
ES0012
Contact Dacotah Paper for Pricing 800-323-7583