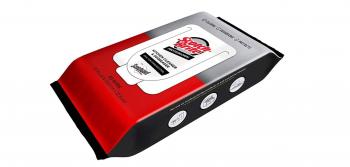 The Scotch-Brite Kitchen Cleaner & Degreaser Wipes with Scotch Gard Protector are ready-to-use, pre-moistened disposable wipes with a cleaner, degreaser and Scotch Gard Protector.
The wipes are designed to be simple and convenient to clean, degrease, and protect stainless steel surfaces and eliminate the risk of overspray.
It is ideal for cleaning non-food contact stainless steel surfaces in kitchen areas.
Size: 12"x9"
Product Features:
Scotch Gard Protector leaves behind a protective layer on stainless steel surfaces, helping to reduce cleaning time and effort with each successive cleaning
Scotch Gard Protector will also be effective on mild steel and anodized aluminum
Rinse free-no need to rinse after using, reducing a cleaning step
Non-caustic with a pleasant scent
No Personal Protective Equipment (PPE) required-Not classified as hazardous to OSHA Hazard Communication Standard, 29 CFR 1910. 1200
Recommended for:
Stainless steel surfaces
Kitchen Appliances
Product SKU:
MN1464
Contact Dacotah Paper for Pricing 800-323-7583