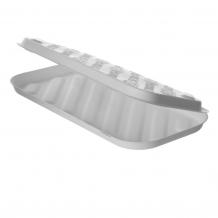 Renewable and compostable sugarcane clamshells – these sturdy containers are fully compostable and made from rapidly renewable sugarcane fibers. 
Product Details:
Style: clamshell to-go containers
Materials: Eco-products® Compostable (Sugarcane)
Dimensions - 13 x 7in; Depth - 1.25in
Recommended use: hot or cold foods
Product Features:
Made from 100% renewable and reclaimed resources
Made with sugarcane, a rapidly renewable resource
Soak-Proof versions are lined with Ingeo™, a plant-based plastic
Meet ASTM standards for compostability
Grease and cut resistant
Freezer safe
Microwave friendly
Renewables Details:
Traditional plastic plates are made from petroleum, the world's most valuable, non-renewable resource.
Sugarcane products are made from rapidly renewable resources, not oil.
Our sugarcane products are made from a reclaimed resource that would otherwise have been burned.
Our sugarcane products are compostable in commercial compost facilities, but unfortunately not in your home compost.
Compost is a great way to improve vital soil resources and divert waste that would otherwise be landfilled.
Composting helps divert waste from landfills.
Product SKU:
ES1372
Contact Dacotah Paper for Pricing 800-323-7583