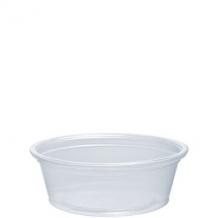 Conex Complements® portion containers provide the perfect portion for any purpose. Made of durable, crack-resistant polypropylene, they're ideal for the many diverse dining and carryout applications in today's foodservice market. For dining, Conex Complements portion containers can serve anything from small side dishes to salad dressing and whipped butter. For carryout, when coupled with a secure fitting clear lid, they safely transport side sauces such as ranch dressing, marinara, salsa, and more.
Color: Clear
Size: 1.5oz
Material: Polypropylene
Lid for this item is PK4606.
Manufacturer:
Dart Container Corporation
Product SKU:
DT0150
Contact Dacotah Paper for Pricing 800-323-7583