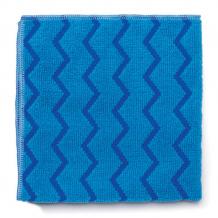 Dimensions: 16" L x 16" W
Color: Blue
Material: Microfiber
Best-in-Class Microfiber delivers superior cleaning performance and durability. Color coded products help reduce cross contamination by differentiating area of use. Patent pending zig-zag scrubbing strips and high quality knitting for better absorption and debris pickup. Durable up to 500 launderings. Bleach safe. Cleans 25% better than conventional microfiber and traditional cotton cloths.
Recommended for Jan/San use in:
Schools
Hospitals
Nursing Homes
Public Restrooms
Manufacturer:
Rubbermaid Commercial Products, Inc.
Product SKU:
RM6200
Contact Dacotah Paper for Pricing 800-323-7583
CLOTH M/FIBER 16X16 BLU GP