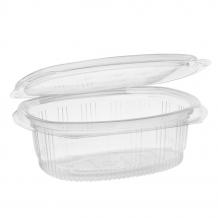 From the flexible, hard-to-crack RPET material and enhanced clarity, to the secure lid and leak-resistant closures, you'll find a lot to like in these recyclable RPET containers! They were designed specifically to meet the unique needs of deli operations like yours. They're the perfect choice for main dish and side items, bulk foods, cold pasta, fruit salads and more.
Dimensions 4.92x5.87x2.48
Material: RPET
Hinged lid provides leak resistant closure.
Temperature Range: -20°F/-26°C - 120°F/44°C
Also available in 8oz (KD1008), 12oz (KD1012), 24oz (KD1024), and 32oz (KD1032)
Product SKU:
KD1016
Contact Dacotah Paper for Pricing 800-323-7583
CONTNR DELI 16OZ CLR HINGED LID