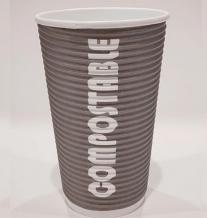 This product has been discontinued without a sub item. Please contact customer service for more information. 
PLA lined Ripple Grip® Ripple Wall cups are the ultimate in eco-friendly and compostable insulated cups. Great for both hot and cold beverages our Ripple Grip® Ripple Wall cups are boldly emblazoned with "COMPOSTABLE" on the sidewall.
The unique reverse corrugate sidewall not only feels good in the hand, it keeps your hands protected, as well as makes a bold statement. Great for any occasion where beverage temperature may be a concern.
ASTM D6868 Certified Compostable Cup
Recommended lid: RE0001 (Flip top)
Product SKU:
RE0216
Contact Dacotah Paper for Pricing 800-323-7583