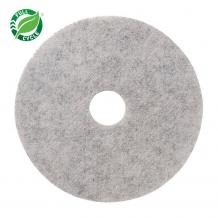 Blended polyester and natural fibers
Color: Black/White Blend
Thickness: 1in
Center hole: 3.25"
For frequent burnishing on medium to hard finishes
Ideal for use on propane burnishers, but also works on all ultra high speed machines
Recommended for use on machines up to 3,000 rpm
Directions for use: Dust mop floors prior to burnishing. Use pad until finish gives high gloss. Dust mop again to remove dust from burnishing.
To prolong the life of this product it may be washed using a hose with a pressure spray nozzle to remove soil. Allow pad to dry completely before using again. 
Product SKU:
AO1920
Contact Dacotah Paper for Pricing 800-323-7583