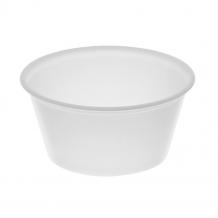 Looking for reliable and versatile portion containers? Pactiv Evergreen offers plastic soufflé cups that are built to hold a variety of condiments, from sauces and dressings to samples and small add-ons like pickles. Keep them handy for to-go orders or use them for pre-packaged meals. Highly versatile and budget-friendly, Pactiv Evergreen soufflé cups are a great value for your business.
This lid recommended for use with products between -20 and 120 degrees Fahrenheit.
Color: Translucent
Material: OPS - HIPS
Top diameter: 2.875"
Height: 1.375"
Recommended lid: KD0030
Pactiv Polystyrene Portion Cups Available In: 
1oz Translucent : KD0100
2oz Translucent : KD0200
2oz Black: KD0201
3.25oz Translucent : KD0300
3.25oz Black: KD0301
4oz Translucent: KD0400
4oz Black: KD0401
5.5oz Translucent: KD0550
Product SKU:
KD0300
Contact Dacotah Paper for Pricing 800-323-7583