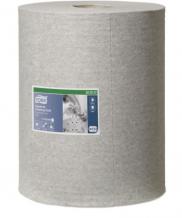 The Tork Industrial Cleaning Cloth is a perfect alternative to Rags or Rental cloths. Its softness and flexibility allows cleaning tight spaces and intricate components without scratching the surface, yet it is tough enough to mop up oil, grease and dirt, while usable with most solvents. It fits in the Tork Floor or Wall Stand dispensers (available by special order), developed for safety and efficiency, and the Tork Maxi Centerfeed or Boxed Combi Roll Dispenser, designed for single hand dispensing.
Features
Compatible with most chemical solvents: Picks up and releases solvents more efficiently than textile products which reduces consumption
Excellent oil and water absorption, easily lifts grease and grime
Reusable, strong, durable wiper - excellent rental towel and rag replacement
Specs
Color: Gray
Roll width: 3.94"
Sheets/Roll: 500
1-Ply
Product SKU:
GX0337
Contact Dacotah Paper for Pricing 800-323-7583