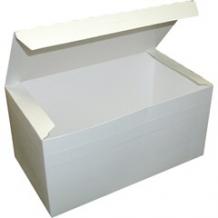 *This item has been discontinued without a sub item. Please contact customer service for more information.
Sturdy construction protects your finished products. Convenient to keep on hand, our boxes ship and store at and fold together quickly. Great for deli items and fast food applications.
Automatic bottom provides for easy set up with a tuck-top which hinges from the back panel and features a front panel lock
Features die-cut vent holes for optional use
Units store flat - saving valuable storage space
Product contains approx 87% compostable cellulose fiber by weight. *Product may be processed in commercial facilities that have final screening capability. Such facilities may not exist in your area.
 
Product SKU:
DF0370
Contact Dacotah Paper for Pricing 800-323-7583