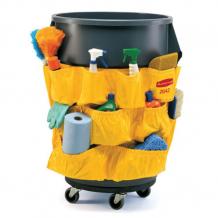 Color: Yellow
Material:  Vinyl
Knock out quick cleanups on-the-go with onboard storage for spray bottles, microfiber cloths, brushes, extra can liners, latex gloves, and other cleaning supplies.
Heavy-duty vinyl for long life and easy cleaning. Adjustable straps.
Caddy has a total of 12 pockets:
4 small pockets at the top
3 medium pockets in the middle
2 larger pockets at the bottom
1 long narrow pocket on the side
2 shorter narrow pockets on the other side
Max weight per pocket: Approx 1lb.
Recommended for easy installation and removal on:
BRUTE Containers 32 gallon (RM2632)
BRUTE Containers 44 gallon (RM2643), (RM2644).
Product SKU:
RM2642
Contact Dacotah Paper for Pricing 800-323-7583