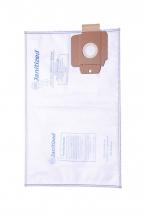 CleanBreeze Vacuum Bag fits:
12" CV30 True HEPA (TN1449)
15" CV38 True HEPA (TN1451 - Discontinued)
15" CV38 Dual Motor HEPA (TN1415 - Discontinued)
19" CV48 Dual Motor HEPA (TN1419  - Discontinued)
The Tornado® CleanBreeze Disposable Filter Bag is designed to be used with the Tornado® CV30 and CV38 models. The filter bag is a high filtration bag that comes in a ten pack. These easy to install bags have a snug fit that will hold all the dirt captured by the vacuum.
The CleanBreeze filter is an intricate web of randomly spun polymer fibers capturing far more particles and allergens than conventional paper bags. Dust emissions are reduced by as much as 60% over traditional paper filters.
Product Features:
3 ply filter media
Original equipment filter bag
CleanBreeze filter material
Product SKU:
BG4305
Contact Dacotah Paper for Pricing 800-323-7583