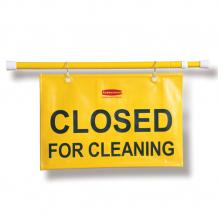 Closed: 13" H x 25" W x 1" D
Open: 13" H x 49" W x 1" D
Color: Yellow with large, black print
Pedestrian safety sign and pole combination blocks doorway effectively.
 According to OSHA, slip, trip and fall accidents are the leading cause of injuries in commercial environments. Since 1980, injury lawsuits have risen by more than 300%. Warning patrons and employees of potentially dangerous areas is key to preventing injuries and avoiding these expensive lawsuits.
3/16" grommets on all four corners for easy posting.
Torsion action to secure pole.
Durable materials for long product life.
Soft, pliable sign for ease of use and storage.
Designed for convenient storage or transport on Janitor Cart or Rim Caddy
Large, 13" warning sign with bold graphics.
Manufacturer:
Rubbermaid Commercial Products, Inc.
Product SKU:
RM9015
Contact Dacotah Paper for Pricing 800-323-7583
SIGN CLOSED FOR CLEANING YEL