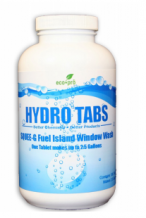 Easy to use concentrate.
Pre-measured dosage.

Each economical tablet creates 2.5 gallons of ready-to-use, blue, sudsy windshield window cleaning solution

No dispenser required.
Designed for commercial and institutional use.
Use on windshields and all glass surfaces. Dries quickly and streak-free.
Contains no alcohol, ammonia or solvents. No VOC's.
Space saver on shelves and racks.
Performs in both hard and soft water environments.
Directions for Use
Drop one SQUEE-G tablet into wash container and fill with 2.5 gallons of water. The tablet will begin fizzing and dissolving to create a rich, sudsy solution. Apply the SQUEE-G solution to the dry windshield or glass surface with a sqeegee using overlapping strokes.
Product SKU:
BI0500
Contact Dacotah Paper for Pricing 800-323-7583