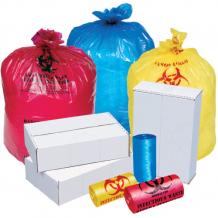 Usage: Hospital Isolation Bags
Dimensions: 37" x 50"
Density: Low Density
Max Load: 70lb
Gauge: 1.2 Mil
​Color: Red (Color Coded for Infectious Waste)
Packaging: Coreless Rolls
Pitt Plastics offers color coded, printed bags for Infectious Waste, Infectious Linen and Non-contagious Linen management. Our printed Stock Isolation Bags are imprinted with English and Spanish to help ensure complete understanding for safety and proper use.
Complete sanitary management is available in Linear Low from Pitt Plastics. They are available in a full range of sizes and strengths as well as featuring the multi-layered star seal.
Our Linear Low Isolation bags start with top quality resins and are carefully constructed to provide greater film strength. This added film strength yields a bag with superior puncture and tear resistance.
Color Code: Red = Infectious Waste, Yellow = Infectious Linen, Blue = Non-contagious Linen
Maximum film strength for tough applications
Puncture and tear resistant
Leak-resistant star seal
Ideal for hospitals, doctors' offices, dental clinics and nursing homes
Bi-Lingual imprint in English & Spanish with the Universal Biohazard symbol
Designed for Infectious Waste, Infectious Linen and Non-contagious Linen management
Product SKU:
PP5001
Contact Dacotah Paper for Pricing 800-323-7583
LINER INF WASTE LDEN 37X50 1.2MI