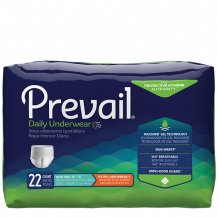 This product has been discontinued with a sub item of SD7221. Please contact customer service for more information. 
Prevail's Protective Underwear goes beyond protecting from moderate leakage associated with urge and mixed incontinence. It has improved efficiency by reducing odors and promoting skin health. Advanced discreet core technology has exceptional performance with added comfort and discretion.
Fits Hip Size: 20"x34"
Features
Maxsorb™ Gel
Omni Odor Guard®
Back Label
Dri-Fit
Unisex
360 Beathable Zones™
Skin Smart ® Fabric
Also available in sizes Medium (FQ5512) Large (FQ5513) and Extra Large (FQ5514)
Product SKU:
FQ5511
Contact Dacotah Paper for Pricing 800-323-7583