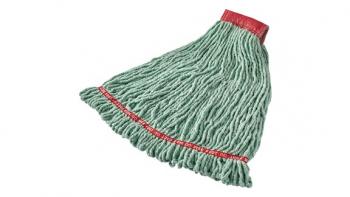 Rubbermaid Commercial Products Web Foot® Mops offer maximum absorbency, ultimate durability, fast-drying, and superior launderability. Web Foot® Blend Shrinkless Mop is made from a balanced 4-ply blend of cotton and synthetic yarn for high absorbency that is ideal for general purpose mopping. Contains built-in antimicrobial product protection – lengthening the mops' useful life and giving floors a superior clean.
Features
Pre-laundered and pre-shrunk for long-lasting performance
PVC-coated mesh headband prohibits moisture retention and resists chemicals for longer product life
Contains antimicrobial product protection to inhibit the growth of bacteria that causes odors and stains
Constructed with a blend of cotton and synthetic yarn
Looped ends reduce fraying, linting, and unraveling
Woven tailband provides more floor coverage
Colorfast colors will not fade with repeated launderings
Suitable for healthcare and general commercial maintenance applications
Premium launderability, up to 75 commercial launderings
Specs
Color: Green
Capacity: 20oz
Headband: 1"
Width: 6.0"
Height: 16.0"
Recommended handle: 1" headband most optimal with side-gate Invader® 
Also available in blue: RM1209
Product SKU:
RM1208
Contact Dacotah Paper for Pricing 800-323-7583