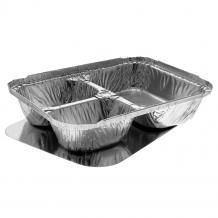 The aluminum containers are durable and grease- and moisture-resistant, making them great for delivery and take-home leftovers.
These perfect for serving multiple item meals!
This line of aluminum foil takeout containers is oven-safe so customers can reheat leftovers easily.
13/5.5/5.5 oz. capacity (24oz total capacity)
Temperature range: Aluminum (-20°F/-26°C - 400°F/204°C)
Dimensions:8"x5.875"x 1.5"
Product SKU:
KD7139
Contact Dacotah Paper for Pricing 800-323-7583