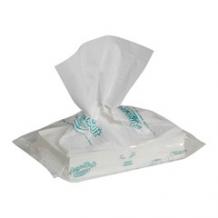 Requires 50% less storage space with 50% more sheets per case when compared to a case of GP PRO cubed facial tissue. The smaller footprint and more product per case can help reduce the impact on storage.
 Going boxless reduces packaging waste up to 69%, when compared to cases of GP PRO cubed and flat boxed facial tissue. Fully enclosed packaging can help prevent water damage and contamination on bathroom counters.
A single sku fits in both cube, flat and wall-mounted facial tissue dispensers.
More packs per housekeeping cart, less waste in trash. Color contrast or printed sheets help indicate when it is time to change the facial tissue.
Contains at least 10% post-consumer recycled fiber, and meets or exceeds EPA Comprehensive Procurement Guidelines. Recyclable LDPE poly packaging. (Low Density Polyethylene)
Manufacturer:
GEORGIA PACIFIC NA COMM BUSINESS
Product SKU:
FX4758
Contact Dacotah Paper for Pricing 800-323-7583
TISSUE FACIAL ANGEL SOFT POLYFLE