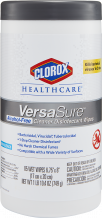 These wipes deliver Versatility to use everywhere, with the Assurance of broad-spectrum disinfection. Now you can have low odor, low residue and high efficacy in a 2-minute, alcohol-free quat wipe.
Strong efficacy quat wipe
Alcohol-free quat formula
44 pathogens killed in 2 minutes (bacteria, viruses, fungi)
Strong aesthetics with superior compliance
Very low residue on surfaces
Minimal odor
Stays wet for contact time
Easy to use: Ready to use wipe, 1-step cleaner/ disinfectant 
For use on surfaces throughout healthcare facilities:
Dialysis clinics, emergency rooms, home healthcare, hospitals, intensive care units, isolation areas, nursing homes, outpatient clinics, operating rooms, patient restrooms, patient rooms. This product does not leave corrosive residue and may be used on stainless steel, hard plastics, nonporous vinyl, painted surfaces, Plexiglas, laminated plastic countertops, fiberglass (sealed) surfaces, glazed porcelain and glass.
Product SKU:
AE1757
Contact Dacotah Paper for Pricing 800-323-7583