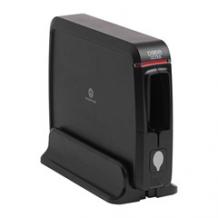 An innovative take on wrapped cutlery, the Dixie Ultra® SmartStock® Wrapped Cutlery System helps reduce cost, increase food safety and increase efficiency. Wrapped only at the critical end, the cutlery uses 60% less wrap than fully wrapped cutlery, reducing waste and cross contamination. 
Red, Yellow, Green indicators quickly show which refills are needed
Pre-loaded cutlery skewers help reduce loading time
 Dispenser (WxDxH) 6.960" x 11.170" x 10.500"
 Refill with Dixie Ultra® SmartStock® Series-W Heavy-Weight Polypropylene Plastic Wrapped Fork (DF5202), Knife (DF5203), Teaspoon (DF5201) refills.
Also available as a 3 pack dispenser: DF5213
Product SKU:
DF5210
Contact Dacotah Paper for Pricing 800-323-7583