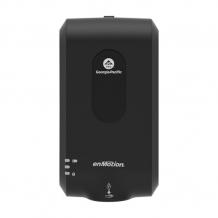 Black, 4.625" x 7.125" x 14.062", Gen2, touchless, foam soap/sanitizer dispenser.
Soap/sanitizer refills for this dispenser: GP2334, GP2714, GP2715, GP2818, and GP2819, GP2338
End user will only use refills in leased dispensers that match the brand of the dispensers. Use or permitting the use of unauthorized products in leased dispenser is prohibited. 
Product SKU:
GP2057
Contact Dacotah Paper for Pricing 800-323-7583
DISP SOAP ENMOTION BLK TOUCHLESS