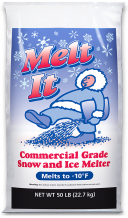 ​Melt It® incorporates a unique blend of chlorides and heatwave® accelerant to quickly melt snow and ice. 
Melt IT® starts melting fast, as low as -10°F
Socium chloride with trace amounts of magnesium chloride and calcium chloride. 
Will not harm grass, shrubs, or concrete! (When used according to directions)
Deep penetrating formulation is powerful, yet safe. 
Blend of effective melting agents allows for a generous application rate at a reasonable cost. 
Blue color provides a visual for applicaiton purposes. 
Product SKU:
PI0050
Contact Dacotah Paper for Pricing 800-323-7583