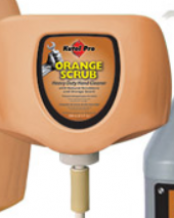 Orange Scrub is a superior heavy-duty hand cleaner with natural pumice and perlite scrubbers and a mineral oil-based solvent to clean all types of soils including grease, oil, ink, carbon black and other tough soils. Petroleum-free, low VOC formula can be used for any industrial use. Opaque orange appearance with Orange scent.
Directions for Use
Before wetting, apply a liberal amount of
product onto hands. Rub to loosen soil. Add
water and work into hands. Rinse hands
thoroughly. Dry completely. 
Product Type . . . . . . . . . . . . . . . . Viscous Liquid
Color . . . . . . . . . . . . . . . . . . . . . . . . . . Orange
Clarity . . . . . . . . . . . . . . . . . . . . . . . . Opaque
Fragrance . . . . . . . . . . . . . . . . . . . . . . . Orange
pH (as is) 25°C . . . . . . . . . . . . . . . . . . 5.7 Typical
Freeze Thaw Stable . . . . . . . . . . . . . Yes (3 cycles)
Scrubber Type . . . . . . . . . . . . . . Pumice & Perlite
Product SKU:
KU4967
Contact Dacotah Paper for Pricing 800-323-7583