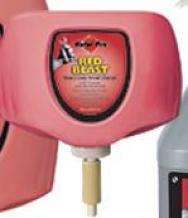 Powerful heavy-duty formula with pumice. Red Blast removes heavy soils, paints, inks, oils, grease, tar and cutting fluids. No solvent formula with moisturizers, easy on the hands. Bright red color with a pleasant cherry fragrance.
Directions for use: 
Before wetting, apply a liberal amount of
product onto hands. Rub to loosen soil. Add
water and work into hands. Rinse hands
thoroughly. Dry completely. 
Product Type . . . . . . . . . . . . . . . . Viscous Liquid
Color . . . . . . . . . . . . . . . . . . . . . . . . . . . . Red
Clarity . . . . . . . . . . . . . . . . . . . . . . . . Opaque
Fragrance . . . . . . . . . . . . . . . . . . . . . . . Cherry
pH (as is) 25°C . . . . . . . . . . . . . . . . . . 6.7 Typical
Freeze Thaw Stable . . . . . . . . . . . . . Yes (3 cycles)
Scrubber Type . . . . . . . . . . . . . . . . . . . . Pumice
Product SKU:
KU7767
Contact Dacotah Paper for Pricing 800-323-7583