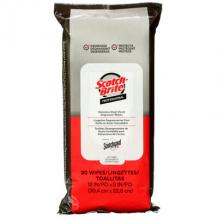 The Scotch-Brite™ Stainless Steel Hood Degreaser Wipes with Scotchgard™ Protector are ready-to-use, pre-moistened disposable wipes
with degreaser and Scotchgard™ Protector. The wipes are designed to be simple and convenient to degrease and protect stainless steel
hoods and eliminate the risk of overspray. It is ideal for cleaning stainless steel hoods in commercial kitchens.
Features
•Strong, effective degreaser for stainless steel hoods.
• Ready to use, pre-moistened, durable wipe.
• Scotchgard™ Protector leaves behind a protective layer on stainless steel hoods, helping to reduce degreasing time and effort with each
successive use.
• Scotchgard™ Protector will also be effective on mild steel and anodized aluminum hoods.
• Rinse free-no need to rinse after using, reducing a cleaning step.
• NSF A7 Registered-deemed suitable for use on non-food contact stainless steel hoods in and around food processing areas.
Product SKU:
MN3381
Contact Dacotah Paper for Pricing 800-323-7583