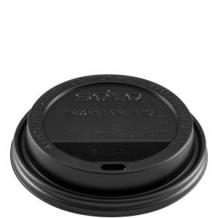 Traveler® lids allow extra space for froth or whipped cream for gourmet hot beverages. The inner ring reduces pop-off incidents, providing a more secure lid fit and reducing dribble at the rim and cup seam.
Color: Black
Material: HIPS - High Impact Polystyrene
Top diameter: 3.8"
Height: 0.7"
This lid fits cups available by special order only. Please contact customer service if you are interested in ordering. 
Manufacturer:
Dart Container Corporation
Product SKU:
DT1225
Contact Dacotah Paper for Pricing 800-323-7583