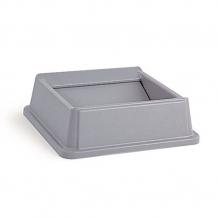 Size: 20.1" x 20.1" x 6.2
Color: Gray
Material: HIPS- High-Impact Polystyrene
Hygienic tops for attractive, hands-free waste disposal.
Drop and swing lid designs provide easy access for refuse disposal and then quickly return to hide refuse from public view.
Controls waste, odors, and smoking debris.
Certification: Untouchable® Container Tops and Accessories -
Hands-free, Americans with Disabilities Act
Recommended for Jan/San use in:
Schools
Hospitals
Nursing Homes
Food Service
Public Restrooms
For use with Untouchable® Square Containers: RM3958
Manufacturer:
Rubbermaid Commercial Products, Inc.
Product SKU:
RM0664
Contact Dacotah Paper for Pricing 800-323-7583
TOP UNTOUCHABLE GRA F/3958