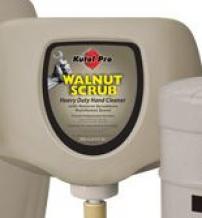 Walnut Scrub contains all natural scrubbers with no harsh solvents. Formulated with surfactants, walnut shells and pumice to help exfoliate the skin and remove even the toughest soils.  It contains mild cleansers and skin conditioners that are gentle and leave hands clean and smooth. Heavy-duty hand cleaner has a tan opaque appearance with a pleasant Rainforest fragrance.  Biodegradable.
Directions for Use
Before wetting, apply a liberal amount onto
hands. Rub to loosen soil. Add water and
work into hands. Rinse hands thoroughly.
Dry completely. 
Product Type . . . . . . . . . . . . . . . . Viscous Liquid
Color . . . . . . . . . . . . . . . . . . . . . . . . . Dark Tan
Clarity . . . . . . . . . . . . . . . . . . . . . . . . Opaque
Fragrance . . . . . . . . . . . . . . . . . . . . . Rainforest
pH (as is) 25°C . . . . . . . . . . . . . . . . . . 6.7 Typical
Freeze Thaw Stable . . . . . . . . . . . . . Yes (3 cycles)
Scrubber Type . . . . . . . . . . . Walnut Shell/Pumice
Product SKU:
KU4767
Contact Dacotah Paper for Pricing 800-323-7583