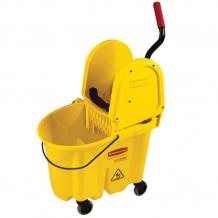 Volume: 35qt (8.75 gallons)
Dimensions: 20.1"L x 15.7"W x 36.5"H
Color: Yellow
Material: Structural Web Molded plastic
The WaveBrake® mop bucket and wringer system reduces splashing, which means a safer environment, cleaner floors, and improved productivity. Massive capacity for the largest commercial cleaning jobs.
Premium tubular steel and Structural Web molded plastic.
This item pairs with WaveBrake® system:
WaveBrake® Mop Bucket: (RM1763)
Side Press Wringer: (RM6128)​
If you are looking for a combo:
WaveBrake® Bucket + Side Press Wringer: (RM7580)
Recommended for Jan/San use in:
Schools
Hospitals
Nursing Homes
Public Restrooms
Manufacturer:
Rubbermaid Commercial Products, Inc.
Product SKU:
RM7577
Contact Dacotah Paper for Pricing 800-323-7583
BUCKET/WRINGER 7570/7575 DWNPRS