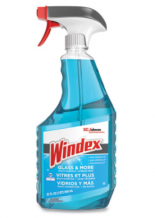 Starts working even before you wipe.
Streak-free shine.
Also recommended for stainless steel, chrome, porcelain, ceramic tile and Plexiglas®.
Refer to manufacturer's cleaning recommendations prior to use on hard, non-porous surfaces.
Do not use on wood or other varnished surfaces.
Cleaner with Ammonia-D®.
Removes fingerprints, smudges and smears.
Makes cleaning glass and other surfaces fast and easy.
Product SKU:
OS3223
Contact Dacotah Paper for Pricing 800-323-7583