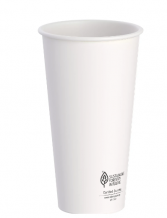 A Sustainable, Insulated Solution with Premier Performance Ditch the sleeve and delight customers! This durable, insulated cup increases operational efficiency by keeping work spaces uncluttered. No sleeves or extra cups to work around! Drinks stay hotter for longer, while the cup remains comfortable to hold.
Color: White
Material: Double walled paper
Fill: 20oz
Height: 6.21"
Base diameter: 2.18"
Top diameter: 3.66"
Available in: 
12oz: PK0211
16oz: PK0215
20oz: PK0219
Recommended lids: DT1225 (Black Traveler®) and DT1224 (Black Optima®)
Manufacturer:
Dart Container Corporation
Product SKU:
PK0219
Contact Dacotah Paper for Pricing 800-323-7583