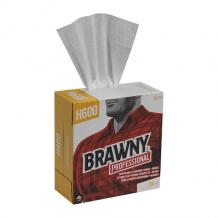 Brawny® Professional H600 series wipers are engineered to be stronger than ordinary paper based wipers. Durable and versatile, these wipers will resist tears, stand up to harsh industrial solvents, and effectively clean tools and machine parts, making them a great alternative for cloth shop towels and rags. These inter-folded wipers come in a tall box format that provides for one-at-a-time dispensing to help reduce waste and control costs.
Boxed design helps protect the unused wipers from contamination.
Dispenses wipers one-at-a-time to help reduce waste and control costs.
Durable, stands up to tough cleaning tasks even when used with industrial cleaners and solvents.
Excellent alternative to bulk rags: delivers consistent size, shape, and quality.
Excellent alternative to laundered shop towels: delivers a clean towel, free from contaminants.
Portable box ensures wipers are available where needed.
Strong and reusable, hydro entangled fibers resist tears and effectively cleans grease & grime.
Color: White
Sheet size: 9.1"x12.5"
Product SKU:
FX9316
Contact Dacotah Paper for Pricing 800-323-7583