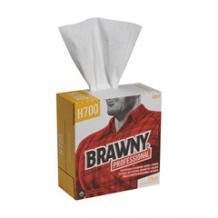 The Brawny® Professional H700 heavy weight, strong shop towel is made from hydro entangled fibers (HEF) making them super soft, yet durable enough to resist tears. These wipers are compatible with most commonly used industrial solvents and stand up well in many general manufacturing and maintenance applications including vehicle maintenance. These low lint wipers provide a cloth-like feel engineered to deliver consistent performance and fast and effective wiping, making them a terrific replacement for more expensive cloth shop towels and rags. These wipers come in a convenient dispenser box for added protection and quick and easy dispensing.
Dispenses wipers one-at-a-time to help reduce waste and control costs.
Portable box ensures wipers are available where needed.
Boxed design helps protect the unused wipers from contamination.
Variety of wall mount brackets available to position wipers near work areas (see Related Products).
Strong and reusable, hydro entangled fibers resist tears and effectively cleans grease & grime.
Excellent alternative to laundered shop towels; delivers a clean towel, free from contaminants.
Excellent alternative to bulk rags; delivers consistent size, shape, and quality.
Durable, stands up to tough cleaning tasks even when used with industrial cleaners and solvents.
Color: White
Wiper size: 9"x12.4"
Product SKU:
FX9322
Contact Dacotah Paper for Pricing 800-323-7583