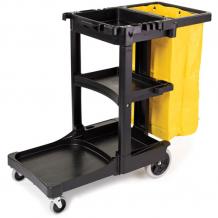 Size: 45.89" L x 21.8" W x 38.4" H
Color: Black, Yellow, and Silver
Material: Aluminum and Web Plastic
Smooth, easy-to-clean surface. Zippered bag for easy trash removal. Non-marking 8" (20.3 cm) wheels and 4" (10.2 cm) casters. Optional locking compartment to keep cleaning chemicals out of reach.
Recommended for Jan/San use in:
Schools
Hospitals
Nursing Homes
Food Service
Public Restrooms
Replacement bags are RM1966
Manufacturer:
Rubbermaid Commercial Products, Inc.
Product SKU:
RM6173
Contact Dacotah Paper for Pricing 800-323-7583
CART JANITOR 2000 BLACK YEL BAG