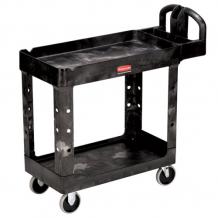 Dimensions: 39"L x 17.9"W x 33.2"H
Color: Black
Material:  Polypropylene
Perfect for transporting materials, supplies, and heavy loads in almost any environment. Sturdy structural foam construction won't rust, dent, chip or peel.
Rounded corners protect walls and furniture. Molded-in storage compartments, holsters, hooks, and notches.
Large, 4" best-in-class casters to meet the most demanding environments. Non-marking swivel casters.
Lightweight and maneuverable. Ergonomically designed push handle provides optimum hand placement and push height improving control and worker safety.
Easy-access bottom shelf.
Recommended for use in:
Hotel lobbies
Coffee Shops
Diners
Restaurants
Cafés
Recommended use with: Utility/Bus Box (RM3349)
UPC:
0008687613342400086876184259
Product SKU:
RM4501
Contact Dacotah Paper for Pricing 800-323-7583
CART UTIL 38.5X17.13X38.88 2SHLF